Photography is all about perspective. In today's day and age, people are constantly shooting and sharing photographs to the tune of 810 billion photos a year (2014) which comes out to a little over 2.2 billion photos each day according to the Worldwide Image Capture Forecast. Everyone is exposed to photography and visual imagery in some form or another. Whether you are looking at social media, TV commercials, billboards, posters at your local department stores; photography is the foundation of effectively communicating a message or telling a visual story.
With that said most people will take photos throughout their lives, but how many of us know the different styles of photography that have been inspiring us? Understanding the different styles and genres of photography is essential for developing our knowledge and skill sets for gaining insight into where our own photography fits.
Here at Art Of Visuals, we are going to focus on 10 genres that are categorized on the new AOV app – download here to immerse yourself into the community.
1. Aerial
Is there anything more majestic than watching a bird glide through the air almost effortlessly? I know I've had countless dreams that one day I'd magically learn how to fly, although that day will never come, we do have resources that allow us to get that bird's eye view of awesome landscapes. The first ariel picture was taken by French photographer and balloonist, Gasper Felix Tournachon in 1858. Platforms for Aerial photography range from aircraft's, helicopters, balloons, blimps, rockets, pigeons, kites, parachutes telescopes, vehicle- mounted poles and UAV's or 'drones'. You'll find unreal ariel photographers within the AOV community.

Photo by Lauren Bath
2. Drone
Drones photography has exploded in the past 5 years and changing the accessibility of taking pictures from the skies. Before the emergence of drones taking aerial pictures was expensive, but today, those costs have come down dramatically. Drones are making it so even newcomers to photography can capture awesome aerial landscapes. We break aerial and drone photography into two distinct segments because of the large scale of the segment.
Photo By Victor Smits
Drone Review: DJI Mavic vs. GO PRO Karma
3. Portrait
The best portrait photographers develop a keen eye for capturing peoples' moods and expressions in an almost clairvoyant manner. You'll end up asking yourself how do they capture such amazing portraits. Typically, the face is the focus of this genre but the body as a whole can be as well. While taking portraits, a photographer will want to ensure the subject's face is share and focused, especially the eyes, or what I like to call the 'shutters of the soul'. The subject's pose should be flattering often used to highlight key attributes (face, eyes, figure etc.).  The magic is being able to capture a person's natural expression, try to lighten the mood with a joke or routine.
Photo by Averie Woodard
Suggested Reading: Learn to Edit Faces in Lightroom like a Pro
4. Landscape
This is probably the most popular type of photography because all of nature is essentially a landscape. It can portray scenery, or even show an impact of environmental change. The key to capturing beautiful landscapes is understanding when to shoot in the right light. Here's a good resource for understanding the right light – check out photography lighting tips.

Photo by John Towner
Suggested Reading: How to Create A Moody Image in Lightroom
Photo by Zach Taiji
Another helpful tip for shooting great landscape images is to use a tripod which will help eliminate any camera tremors. Using a long shutter speed can give you spectacular landscape images. For example, if you like capturing waves, using a long exposure time will turn those waves into a smooth white cloud-like appearance.
Suggestive Reading: 8 Landscape Photography Tips for Beginners
5. Black & White
When I think of black and white photos the word 'classy' tends to come to mind. Black and white images are not usually starkly contrasted but combine black and white into a continuum producing various shades of gray.
Photo by Sarah Neighbour
A common question is how to take great B&W photographs? Two tips, shoot in RAW and in color. Most photographs can be turned into B&W in post-processing and/or using an AOV preset which can be applied flawlessly.
Suggestive Reading: AOV Lightroom Presets: From A Great Photo to a Work of Art
6. Transportation
Generally speaking, transportation photography is related to cars, trains, boats, planes, bicycles and other forms of transportation. Not merely machines, transportation represents an important aspect of human ingenuity. Transportation machines are often works of art themselves so take artful photos them.
Photo by Evan Kirby
7. Urban
Architectural photography falls under this category and capturing an interesting form, shape or color of a structure can be visually pleasing. We associate many buildings like the Vatican, Australian National Maritime Museum, Statue of Liberty and the Eiffel Tower as great examples of Urban photography.

Photo by Luis Llerena
Many photographers will call their urban style of photography, street photography. This is also a very popular style of photography because there are a lot of people who live in urban (city) environments. The hustle and bustle of city environments offer a plethora of shooting opportunities. Also, don't be afraid to go out in weather events to shoot some scenes that push you out of your comfort zone.
 Photo by Roman Arkhipov
Suggested Reading: How to Protect Gear in Bad Weather
8. iPhone (Mobile)
Today there are almost as many cell phones as there are people on this planet. The iPhone (mobile) segment of photography has exploded with apps like Instagram and Snapchat allowing anybody to practice and refine their photography skills. Social media, particularly Instagram, is a great place to connect, learn and engage with photographers of all skills levels.

Photo by Eric Ward
Suggested Reading: Instagram Secrets
The easiest and least expensive way to get your foot in the photography door is to start with mobile. Although the AOV app is only for iOS user's we'll be expanding soon enough. Keep in mind that most of the newer phones can take print quality photographs and with the right skill set you can build a solid foundation in photography in the mobile segment. A piece of advice, shoot lots of pictures, they are easy to take and easy to delete. There are also mobile lens accessories like Olloclip that can take your mobile photography to the next level.

Photo by Olloclip
Suggested Reading: How to Shoot an Official Ollogram
9. Nightscape
The art of nightscape photography requires a good understanding of how we perceive light. You'll need a good understanding of the exposure triangle: ISO, Aperture and Shutter Speed to excel in this field. Some of the best are able to capture how the world transforms when the sun goes down. These type of photos are intriguing as the viewer gets to see some unusual aspects that may not be seen by the naked eye. Often nightscapes will feature long exposures which create a unique perception of the subject. This is another field, where having the technical knowledge is imperative to capturing an ideal nightscape.
Photo by Nathan Anderson
10. Animal (Wildlife)
This may be one of the more challenging forms of photography, as it can be difficult to capture animals in their natural habitat. This style requires refined technical skills and thorough preparation. With animal photography, you need to understand your camera's setting inside and out. You may only have a split second to capture a perfect shot, otherwise, it may be lost forever. Many of the top wildlife photographers prepare like they are hunting an animal, with their camera being their weapon.

Photo by Thomas Kelly
Photo by Bill Williams
For those of you who made it this far and would like to take your photography to the next level, feel free to send us an email at blog@artofvisuals.com for an opportunity to be featured! #AOV #BeVisuallyInspired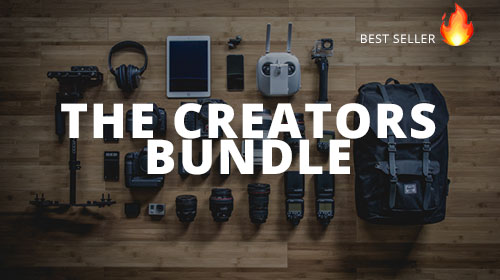 SaveSave
SaveSaveSaveSave
SaveSave