Is your work getting the justice it deserves? Are you making the money you deserve? 
On this post I am going to show you how to build stunning custom galleries, online portfolios, gather client emails and put together online catalogs for selling digital products, prints and other merchandise. All within Cloud spot! An easy to use and beautiful platform designed to save creatives time.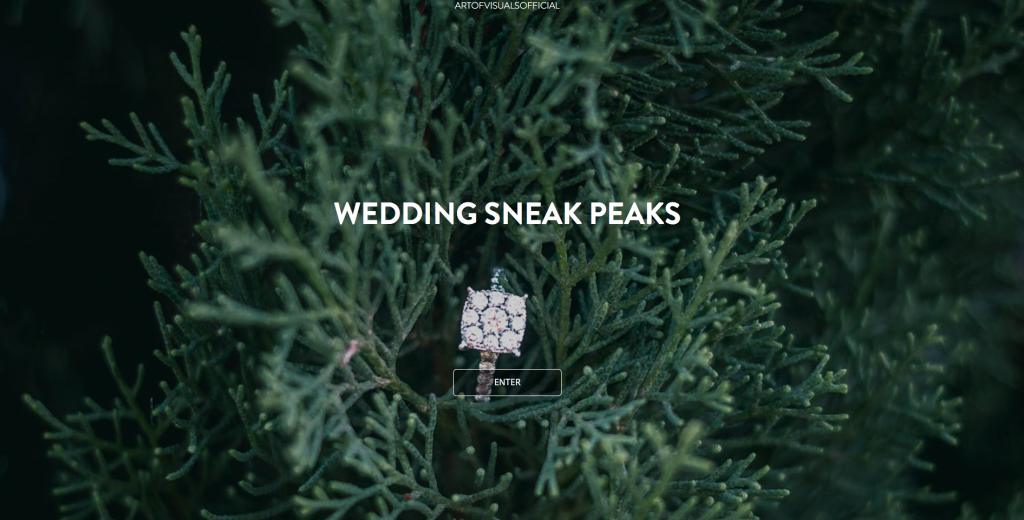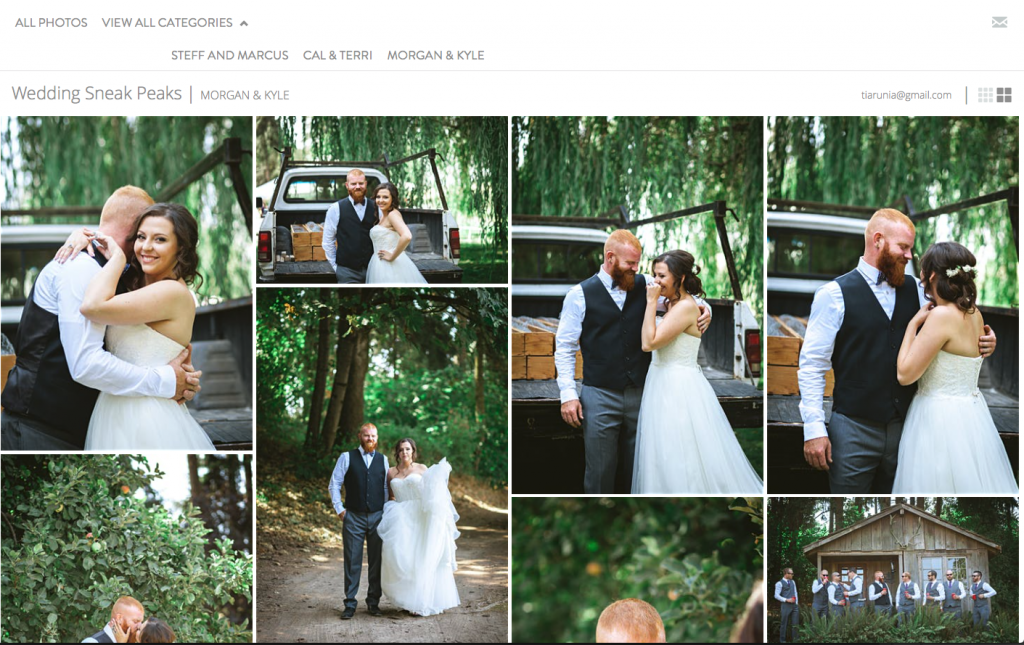 Let's get real for a second;
You spend your precious time and energy creating something that you are proud of. A work of art. What next? Do you send it as an email attachment to your client, dropbox it or post it up on Instagram? Isn't it time that you do yourself (and your artwork) a favor?
Cloudspot is the easiest and most attractive way to present your brand to the world while making more money doing less…much, much less.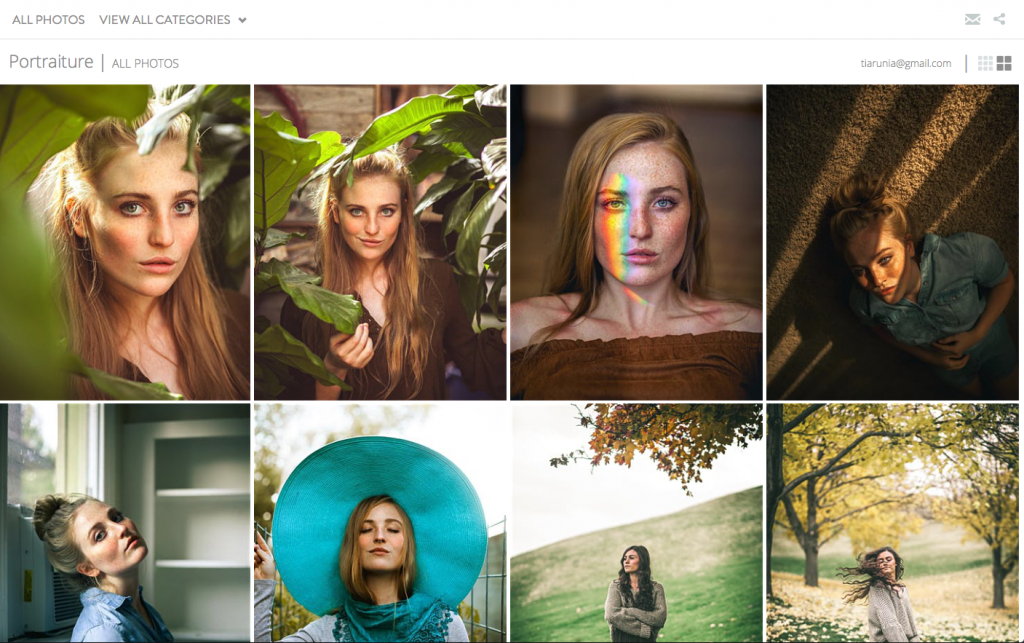 What exactly is CloudSpot?
This was a God sent to me after using

drop-box the years prior.

As a photographer and someone

with a strong visual aesthetic,

I hated the way a drop box gallery

looked on the other end.

So when I found a service that allowed me

to control the viewing experience'

of my clients AND keep my business

all in one place, I fell in love!
Cloudspot is a photo sharing service that allows you to put together stunning galleries and customize the way your images are presented to your clients.If you love your images, you should also be in love with the way they look as a collective when delivering them.
Cloudspot's original purpose was to eliminate a headache of hard drives, CD's, USB drives or whatever other old-fashioned photo delivery method you have been using…
As time passed they heard out their users and created a platform that is a jack of all trades and properly optimized will shave hours off your workflow and help to build out your business.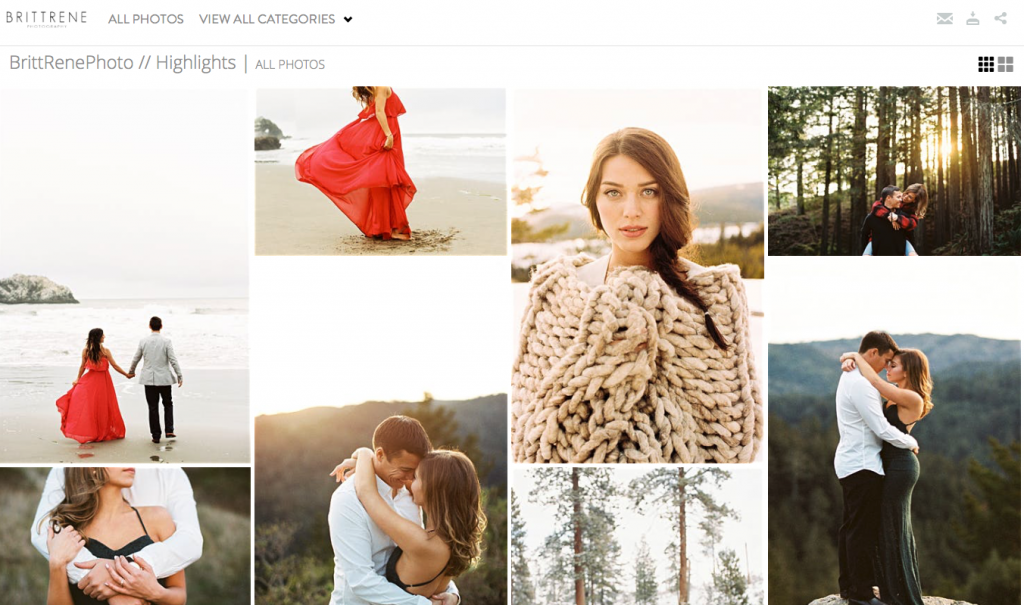 ---
What makes this platform so valuable? Besides custom galleries. 
The clean professional first impression your clients will get of your work.
Control what you share.
Customize your images.
Select your contacts.
Select a template.
Save multiple templates to fit the images.
Gathers client emails.
Streamline client communication.
Gathers emails from anyone who sees your gallery link.
Build a catalog in four clicks!
Keep track of sales, orders, and shipments
Prints and ships your images.
Choose your own printing lab, or let Cloudspot handle it.
Make international sales.
Accept practically all payment types,
Watermark galleries with your logo (Or don't its all under your control.)
EASY TO SET UP, CUSTOMIZE, USE AND MAINTAIN. 
Live support and resources there to help when you need it.
Live analytics.
---
LET'S GET YOU SET UP AND TAKE A LOOK AROUND.
First order of business; Building, Customizing and sending stunning photo galleries!
Steps to creating a gallery.
---
1.

Export images from Lightroom to your desktop. 
---
2.

Organize your images into folders based on the order in which you would like your images to be viewed.

Cloudspot will keep the order in which you select your images for download. It will also automatically replicate your folders and organization within your gallery when you drag and drop folders for download. 

You can always customize the order, add and remove folders, once images are uploaded. But doing it beforehand will save you time and help to keep you organized. 

Follow example image located to the right. 
---
3.

Click the green plus sign icon in the bottom left-hand corner of the cloud spot module in the gallery section > Create new event.
Title your event accordingly based on the content it will be containing. 
Follow example image located to the right for location of the icon. 
---
4.

 Select all folders that you wish to upload. Drag and drop them into the upload panel in Cloudspot.

Follow example image located to the right for location of the icon. 
---
5.

Once Images are fully uploaded > Select a header image for your event.
Select photo > Drag and drop onto cover image slot > Adjust focal point.
The header image is the first thing that your clients will see whet they receive their images! 
Follow Image examples Left > Right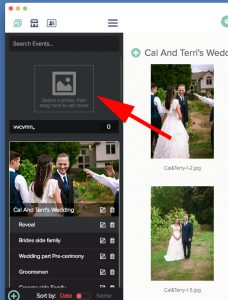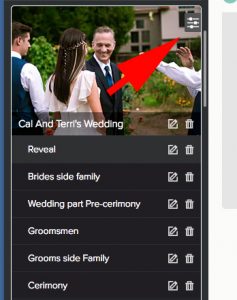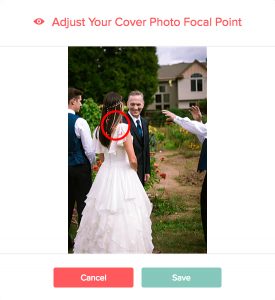 SaveSave
---
6.

Click the Send/share Icon in the editing module at the bottom of your event.

Once you click "Send Gallery Images" Cloudspot will ask you what you would like to send exactly.
A direct download only > An online gallery Link > Both a download and gallery link.
Left > Right | Send Gallery Images icon Location> Gallery options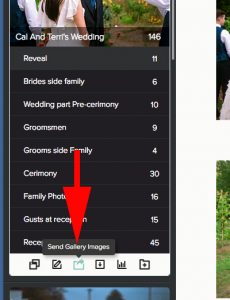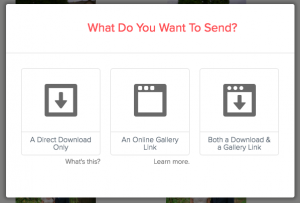 ---
A direct download only link will present your client with an email that holds a direct download link to the folders inside your events. When clicked the images in your gallery will start downloading to your client's computer.
An

Online Gallery Link

 will present your clients with an email that takes them straight to your gallery, without a direct download option. This is perfect for presenting a digital portfolio. 

Both a download and gallery link

 will provide both of the above options in one email template! This is the option I use as my default for most client work. 
---
7.

Create a new gallery or multiple galleries. > Name gallery> Set URL> Set gallery details

Once you've selected what you are going to send (from section #6) it is now time to group your folders together into a Gallery or multiple galleries.

All this means is that the images you uploaded into an event will be presented all together OR you can create multiple galleries inside one event, dividing your images up by whatever classification you decide.
Event> Gallery> Folder
For example, you

are hired to shoot a three-day country music festival. You would… 
Create a new event 

(section 3) titled "country music Fest." 

Upload organized folders of images (section 4) 

grouping together image by the artist that was performing.

 Create three new galleries titled " Day 1, Day 2, Day 3″ each gallery including the folders of images for the artist that performed that day. In order of performances. 
---
SaveSave
SaveSave
SaveSave
8.

Customizing your email template and gallery to fit your brand! 
At this point, we have our images organized, header image set, and a gallery prepared. We are just about ready to send it off! But before we do this it is time to customize the experience to fit your personal liking and brand image.
This is the fun part.
The first thing you are going to do is go to the circular icon on the top right-hand side of the CloudSpot module. It will drop down two options Accounts settings > Log Out.
Go to account settings.
When you click "Account Settings" you will land on the storage management page with all of your account settings at access in the tabs on the left-hand side of the module.
It should look like this!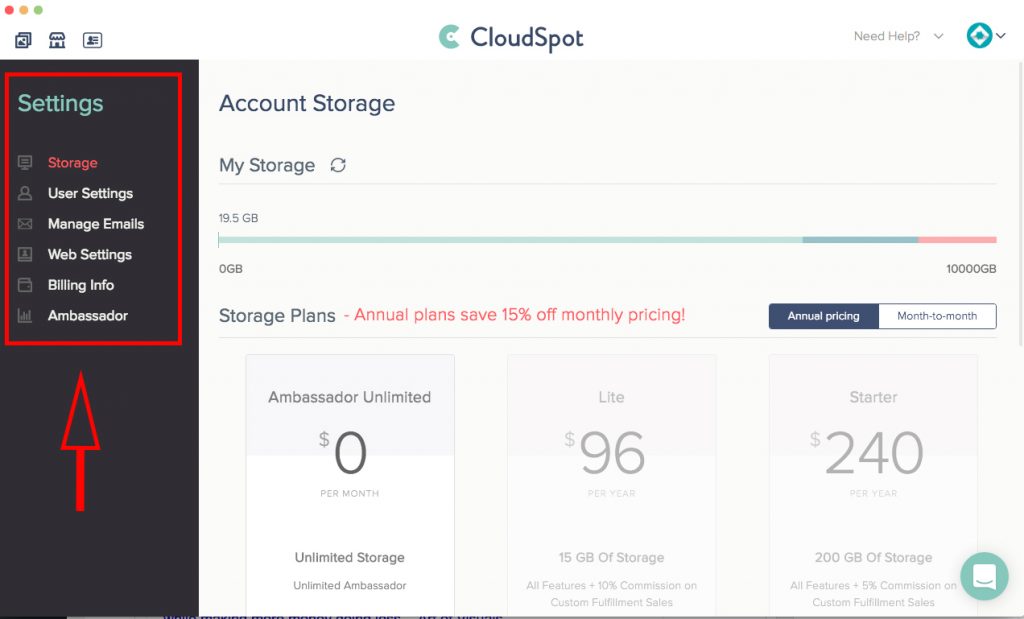 The storage section of your account settings will show you how much space you have used and how much space you have left. This is also where you can change what plan you are using to accommodate the amount of storage you need. If you are using the free trial version of Cloudspot at this time, this is where you will go to update your account when your free trial space is all used up! 
---
8.A

 

User Settings: 
 Starting on the

left-hand

side and working downward, let's walk through this section.
Avatar

: This is kinda like your Cloudspot profile image. You can click "choose file" and it will open up your computer finder. From there select the image or logo you wish to use and Cloudspot will upload it.

Company Name and Email

: Pretty straightforward, this is where you add the name of your company and the email you wish to send and receive from. The Company name is who it will say the email is from when delivered to the receiving end.

Change Password:

 

It will ask you to put in your existing password and then on the line underneath the password you would like to change it to. Click the "Change" button on the bottom to set the new password in place. 

Reply-to Email

: This is where cloudspot will send any reply emails from your clients.
Now jumping to the top right side. 
Downloaded Images

: This is where you choose a location on your computer that cloudspot will save images you download from Cloudspot to your computer. Desktop, downloads, hard drive, etc.. 

Local Cash Settings

: When you upload images to cloudspot it saves thumbnails of your photos in a folder on your computer. There is a button here that says "Clear your Cash." It is recommended that you come here and clear your cash every once and a while to free up space on your computer.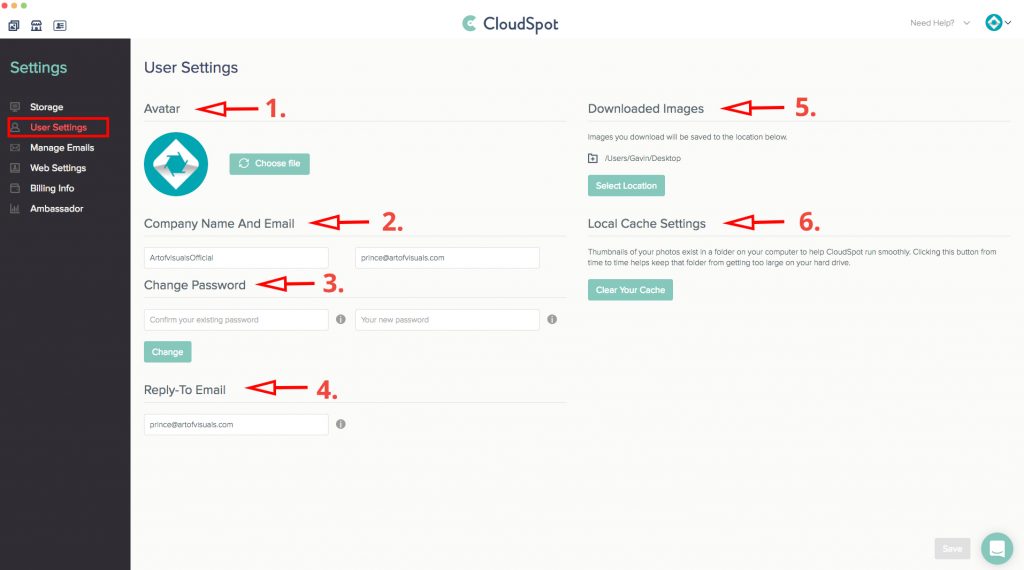 The diagram is numbered in order of bullets above.
---
8.B 

Manage Emails: Creating email templates, customizing the body, subject, and color. 
When you send off a gallery to a client they are going to receive an email from the company name that you set in the section above (Bullet number 2, Sec. 8.A) 
This tab in your Account settings allows you to choose from four available email templates and customize their appearance to your liking and to fit your personal brand. You can create templates to fit your galleries and save as many variations as you like.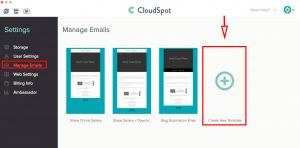 The first thing you are going to do is click the

green plus mark

 to create a new email template.

Next, name your template and set an accent color. You can choose to use either the eye drop tool or enter your color manually and it will appear as a border around your email template.

Next, select the email template that you wish to use out of the four options provided. By clicking the magnify icon with + in the center a large preview will show up so you can get a clear idea of each templates layout. 

Next, you are going to fill in the email content section. The first line being the Subject header of the email. The larger box is the body of the email. I choose to have a uniform message that works for almost all of my clients as to streamline my communication and save time. However, you have the option of customizing the body and subject of your email every time you send a gallery. If you prefer to use a personalized message

.
Once you have gone through these steps you may click the preview button on the bottom left of the page to see a preview of the email template you just created and then click save to save it to your archive of email templates you can choose from when sending a gallery.
You can create as many email templates as you desire! So have fun with it and have emails prepared to save you time and energy! 
---
 8.C 

Web Settings: Personalize the appearance of your galleries. 
This section is crucial to personalizing the viewer experience that your client has when browsing through the gallery you send them. This is where you design what they see and how your images are presented.
Starting on the left-hand side and working downward, let's walk through this section.
Home Page URL

: This allows you to set the URL of your homepage. Your home page is where you can find all of your public galleries in one place! This link is perfect for sending to potential clients as a portfolio.

Gallery Accent Color

: The color you choose will be the background on which your images are displayed in the gallery. As well as the background color of the gallery header.

Website & copyright

: This is where you can link your personal website (if you have one) and put a copyright on the images in your gallery to protect them in the case of plagiarism.

Social Media Links

: Links to your social accounts will appear at the bottom of galleries and gallery emails when you put their URL's here.
Now jumping the center column. CUSTOM LOGOS.



Email Logo

: Select your logo from your computers finder and upload it to appear at the top of your email templates. As shown in the example to the right.

---

Online Gallery Logo: This Logo will appear on the left-hand side of your online galleries. As displayed in the example to the left.
---
Cover Photo Logo: This logo will appear on top of the cover image that you set for the gallery. Which appears before entering the gallery. As shown in the example to the left.

---
Now jumping to the top right-hand column: WEB GALLERY WATERMARK.
WaterMark File

: Select your watermark file from your computer finder. For best results use a PNG file type.

Watermark Location: Select where on your images you would like your watermark to be found and at which opacity you would like it to appear. All you have to do is click on the circle representing the location on the image and use the slider to set your desired opacity.

---
8.D

Billing Information:

This section is very straightforward. Put in the card number and information that cloudspot will charge for your monthly or annual plan.
---
8.E

Ambassador: Affiliate information and tracking.

Cloudspot gives you the option to be an affiliate for them. If you are unfamiliar with what being an affiliate means basically you have a link that you can use to tell other people about Cloudspot. When people sign up for their service using your link you receive a cut of the commissions made.
In this section of your user settings, you can access your affiliate link, see live analytics on how many active users you have converted and how much revenue you have accumulated.
It does require you to have a separate Stripe account for your affiliate earnings. You can set up this stripe account in the section as well!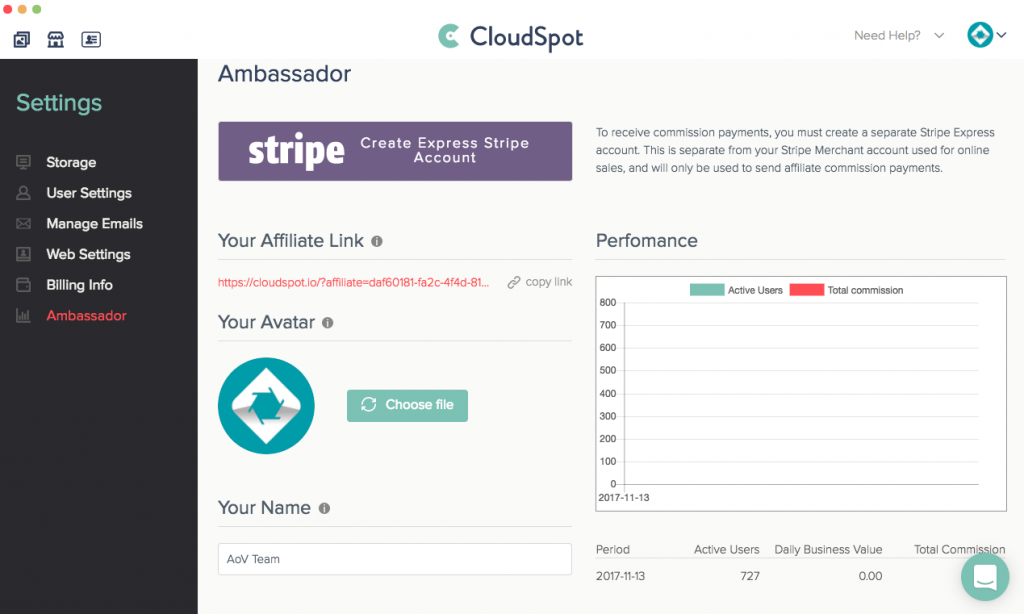 ---
WELCOME TO SECTION TWO! 
| YOUR ONLINE STORE |
ORDERS • PRODUCTS • TAXES • SHIPPING • DISCOUNT CODES • BANKING
It's time to make some money. Quick and easy. 
---

---
1.

Connecting to Stripe: What information you will need on hand.Stripe is a secure way of accepting different payments options from countries all over the world. This allows you to open your sales internationally with no extra efforts needed.
If you don't have a stripe account already, when you click on the store tab (top left of the main cloudspot module) it will ask you if you want to create a new stripe account. >Click create new account
You will want to have this information on hand, 
Personal information (address, DOB, business type, etc…)

Last four digits of your social security number.

Bank account number and routing number. (This can be found on the bottom of a check or with your bank.)
Once you have a created a new stripe account for your shop it will automatically take you back to your store in cloudspot. 
The first page you land on is going to ask you to set your term of sale and select the form of currency that fits where you live. Terms of sale can be anything you like.
ex: All sales final, 30 day refund, etc…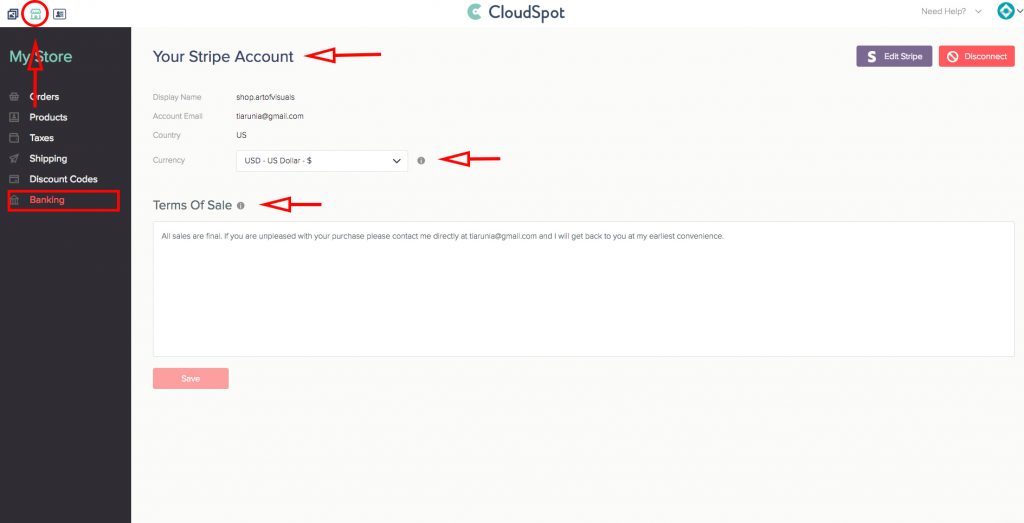 ---
 2. Now we are going to move over to the tab labeled "product": Second down on the left hand side of the module. 
This section is where you are going to create catalogs, add products, choose your price and add extra shipping and handling costs. Sounds like a lot but this can be done is as few as four clicks.
First, click the green plus icon labeled "catalogs" The setting options will pop up.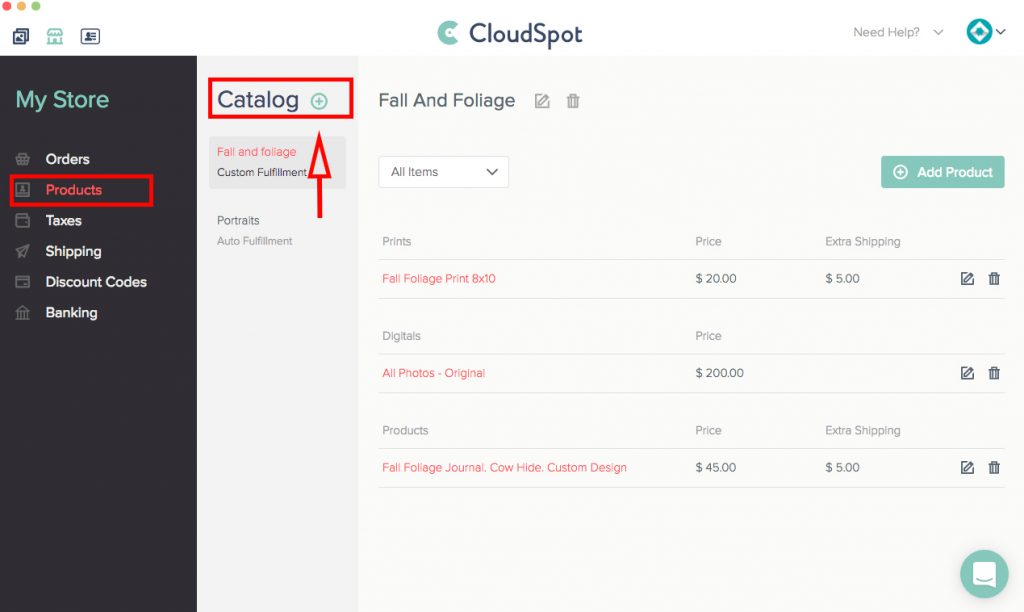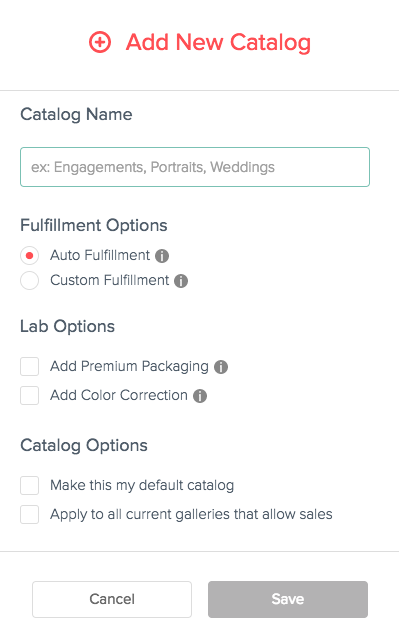 SaveSave
FirFi
---
Catolog name

: This is pretty straightforward. Choose a name that is fitting to the contents of your catalog.
---
SaveSave
 Fulfilment Options

: Cloudspot understands the struggle of finding a lab that you love for printing your work. So, they give you the option of letting them handle it or handling it yourself.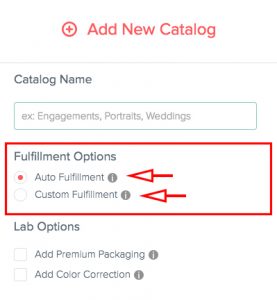 Auto Fulfilment

: Check this box and cloudspot will handle all of the printing for you.
Cloudspot has partnered with White House Custom Color as their first supported lab. Their reputation, turn around time, and quality is amazing! Feel free to read more about them here.
You can also read all about how this works RIGHT HERE.
Custom Fulfillment

: Custom Fulfillment allows sales to be done your way in CloudSpot galleries!

You can now sell the prints and products of your choice. Name the item, set the price, and send an order off to print through the lab of your choice.

You can also create customized shipping options as well as add additional shipping charges to specific items that you sell.
Read more about custom fulfillment RIGHT HERE.
---
Lab Options: What type of packaging your prints will be delivered in & What color treatments will be applied during the printing process.
Add Premium Packaging: Want your images delivered looking like a gift from the future? Bow and all, cloudspot will handle it.
With this option selected your images will be delivered to your clients in a sleep black folder nicely wrapped and tied shut with a satin bow. This is perfect for Christmas time.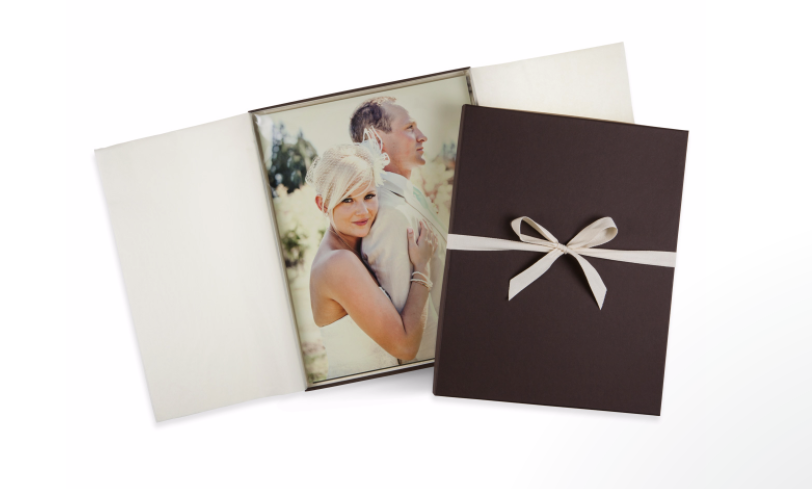 Read more about the premium packaging RIGHT HERE. 
Color Corrections

: Cloudspot suggests that you turn this option on if you have not collaborated your monitor for your chosen lab.
Using color corrections will increase the base cost of your prints but will ensure that they come out looking as magnificent as they do in their digital form. If you are a novice to printing your work this is highly recommended.
---
3. Now moving down to the tab labeled "Taxes".
This section is also pretty straightforward. If you live somewhere with a sales tax you can create a profile that matches the tax of your region and choose to apply the tax to Shipping costs or digital sales. 

To add a new region > click the green plus mark> select the region that you live> Enter the tax percent.
If you don't know the tax percent, it is easily available information by doing a quick google search. 
---
4. Next, we move to the tab labeled "shipping".
This is where you choose the shipping options you would like to use or create custom shipping options and select a base rate you would like applied to the shipping costs. 

To add new shipping methods > click the green plus mark > name your shipping option> set shipping price> select domestic or international.
You can customize this as much as you wish. As seen in the example above I have a hand delivery option for domestic sales only.
---
5. Discount Codes: Want to provide discount codes or have a sale on prints? Not a problem.
Go to the tab labeled "Discount codes". This is where you can create your own sales and discounts quickly and easily. 

To create a new discount code>
Click the green plus mark>
Name your discount>
Create discount code (clients must insert this code in order to receive the discount) >
Select where you would like the discount to be applied to ( Order total, Shipping or Digital sales)
Select a set amount or percentage that will be taken off.
Set an expiration date for the discount.
Set a minimum order value that must be met before discount can be applied.
Choose how many times you would like this discount to be able to used.
Click save and your discount is ready for use.
---
6. Enabling sales on in your galleries! Now that your shop is all set up it is time to enable sales for your clients.
Go to edit gallery on the bottom of the gallery you wish to enable sales on.

Go to the sales tab at the top of the editing module.

Turn the enable sales button ON

If you wish to apply a discount code turn the discount code button ON. Select the discount code you wish to apply.

Select the catalog in which you have the gallery listed.

Save the updated gallery settings. 
Now when you go to send off your gallery it will show a small shop icon on the bottom left-hand side of the gallery. As shown in the example to the left.
From the clients perspective when they receive their gallery there will now be a cart icon at the bottom of their images. They can select images from their cart, choose what size and type of print they want and place their orders easily.
---
Client perspective: Placing an order.
1. Click the cart Icon.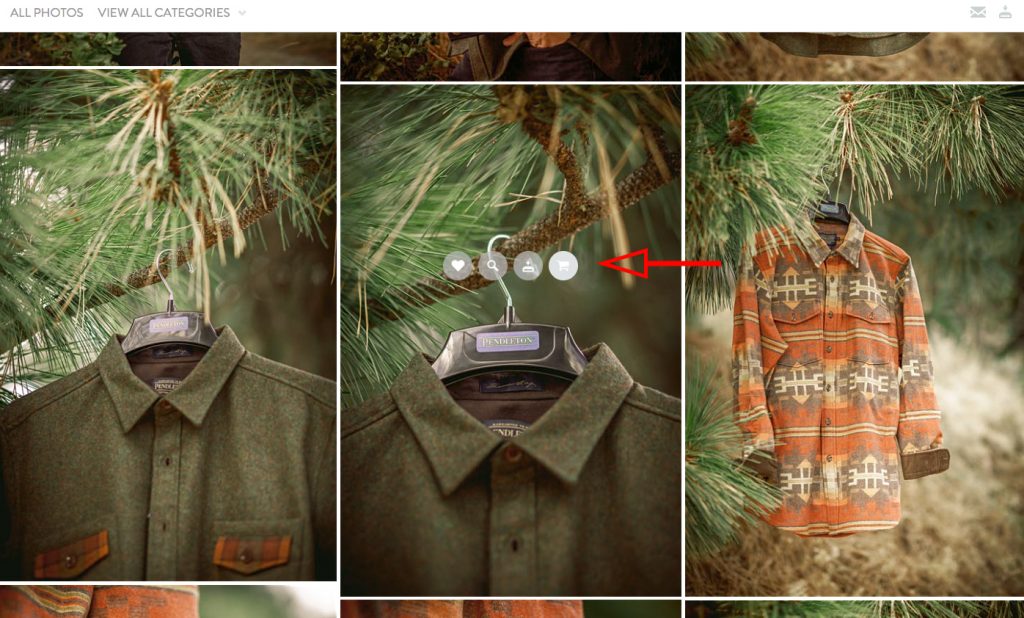 2. Select product option they would like. 3. Place order> select shipping> billing
---
Once an order is placed! Cloudspot provides tools to keep you organized
while fulfilling orders.
Once an order has been placed it will appear in the first tab in the store section of your cloudspot.
It will tell you an order number> The date it was placed> The client name> The gallery it was placed from> The status of the order. 

As the status of the order progresses you can update the status by clicking the down arrow under "Status" and choosing from the below option.
This is also where you can cancel an order and refund your clients if need be.
All in all, cloudspot is the easiest way to preset your work to the world and make sales simple and easy.
Enjoy your new online shop! 
---
Alright, we are just about done here. Thank you for joining us in exploring this beautiful platform.
To recap what we just went over.
Cloudspot allows you present your images in a professional and user-friendly way.
Keep track and control the downloads of your images.
Customize your galleries to fit your brand.
Resize and watermark your images with one click.
Create online catalogs for selling prints and other merchandise.
Will keep you organized the whole time.
All this plus Cloudspot is known for their amazing live support and a huge archive of useful tools and resources to help where you're lost.
If you don't have a cloudspot account or are now ready to upgrade your free account click here to get started!
If you would like to learn more about cloudSpot feel free to visit their website. 
---
SaveSave
SaveSave
SaveSave